CAPTAIN CAKE
and the Candy Crew
Winner of 2 Golden Mom's Choice Awards and
1 Story Monsters Approved seals and certificates
View the books
Our Story
One day, a plate of food in a kitchen gets blasted by General Rock's ray gun and comes to life. The Victoria Sponge Cake becomes Captain Cake, the bar of chocolate becomes Lieutenant Chocolate, the jelly becomes Sergeant Jelly, and the sweet potato becomes Private Potato. Together they are The Candy Crew and General Rock asks them to board The Sweet Candy to seek out new planets and sweetly go where no sweet has been before.
These are the adventures of Captain Cake and The Candy Crew, who have to save The Veggie Crew, fight The Rotten Tomatoes and rescue Commander Pickle, who is always in a pickle.
Each character has different strengths from being logical, practical to fearless and brave. Which character would you be? Find out now as you join the adventures of Captain Cake and The Candy Crew, and sweetly go where no sweet has been before.
Meet the Candy Crew
Hi
I'm Captain Cake
Hi
I'm Lieutenant Chocolate
Hi
I'm Private Potato
Hi
I'm Sergeant Jelly
Get to know the crew
What you should know?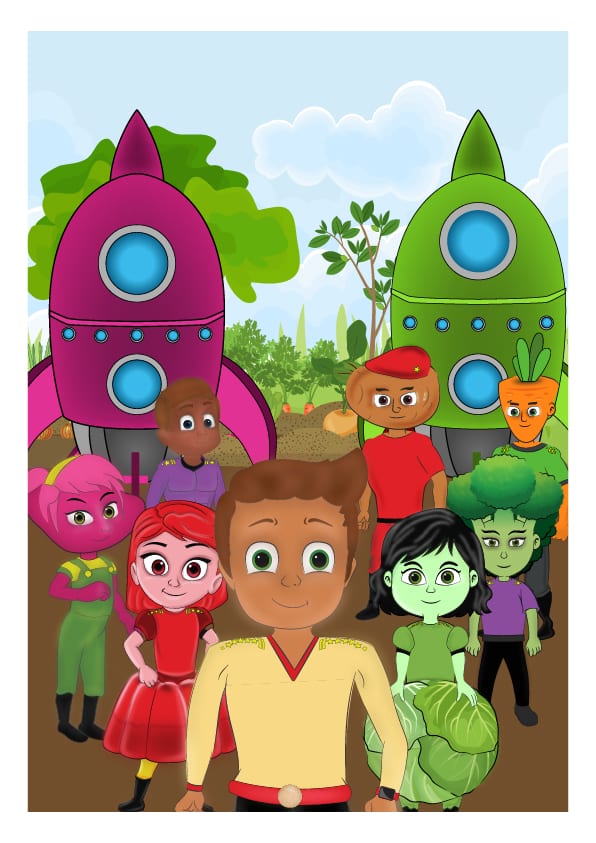 Book 1: Meet the Candy Crew
General Rock needs a crew for his new spaceship, The Sweet Candy. He calls upon Captain Cake, Lieutenant Chocolate, Sergeant Jelly and Private Potato to team up and venture where no sweet has gone before. Will the Candy Crew know how to work together?
Book 2: Commander Pickle's in a pickle
Commander Pickle is always in a pickle, as in trouble. He loses his robot, cannot be found and ends up in the Machine of Waste. Can the Candy Crew save him in time?
Book 3: General Rock's secret
The Candy Crew travel to Lavaland in search of hidden treasure. Instead, they find General Rock's mum, who tells them a secret about him. Should they keep it or tell him they know?
Book 4: Chase The Rotten Tomatoes
Attacking our solar system, The Rotten Tomatoes are determined to cover every planet in a terrible brown goo. As they near Earth, The Candy Crew must stop them, but will they arrive in time?
Book 5: Save The Veggie Crew
The Veggie Crew are stuck on Earth in earth. Captain Cabbage, Lieutenant Broccoli, Sergeant Potato and Private Carrot need help. The Candy Crew are sent to save them, and Private Potato saves the day. Captain Cabbage offers Private Potato a job. Will she take it?
View more!
Check out the books
The goal is to educate young children (3-7 years) about the world and life lessons, whilst having fun and going through enjoyable adventures alongside Captain Cake and his crew.
Reviews and features
@secretreadinglife
---
"A recent favorite is Captain Cake: Meet the Candy Crew! It's the first book in a fun series for kids to educate them about the world and life lessons. Book 2 is Commander Pickle's in a Pickle and let's just say when I told my 6-year-old that was the name of the book, she laughed and said we need it ASAP!"
@bookscallmyheart
---
"This was such a sweet book and I loved the many themes that were carried throughout the different chapters. The stories provide a wonderful foundation to discuss important topics with young children like bravery, teamwork, and acceptance. The short chapters lend themselves well to a nighttime read aloud for younger children. An older child could read it in one sitting and I think they would enjoy it as a graphic novel. It would also be a great addition to a classroom library. Captain Cake would appeal to young readers that love space, sci-fi, and superheroes!"
@mommysreads
---
"Captain Cake: Meet the Candy Crew is a blast! My daughter loves the candy crew and flipping through the pages of their adventure. It's broken up into chapters which made it easy while reading to my 3-year-old. So cute!"
Run Wright
---
"I think both the artwork and storyline in Candy Crew could be used to start important conversations about recognizing and appreciating differences. I enjoyed reading Candy Crew with my toddler and while she is more focused on the pictures right now, as well as perhaps getting a kick out of me trying to explain that a character blasts chocolate from his hands, this is the kind of book that will stay in our library for us to revisit as she gets older."
Stranded in Chaos
---
"Throughout the book it asks comprehension and engagement questions to keep readers paying attention, which makes this a perfect classroom read. I love when a book can be used at home and/or in a classroom, especially now when a lot of families are choosing to homeschool or go with a hybrid option, finding good books to cover topics like emotional and self-regulation is key."